Median home price in the country slid by 7.2% in the year to April, with capital cities recording a larger decline of 8.4% in average weighted terms.  Data from CoreLogic, though, showed that for some specific markets, the declines have been massive, while in others prices have not decreased at all.
The largest value drops among capitals have occurred in Sydney and Melbourne—which logged over 10% falls—and in Perth and Darwin, which have been demonstrating weakness.
On the other hand, Hobart, together with some suburbs in Canberra, topped the list of capitals with largest price growth in the year. The five best-performing regions in both cities recorded increases of 7.9% from 12 months earlier.
House prices in the Tasmanian capital defied the downward trend. Three of the city's five worst-performing regions recorded price increase over the year.
"While prices in some pockets of the smaller southern capitals boomed, three of the five top performing regions in Sydney and Melbourne, and four of five in Perth and Darwin, actually recorded price declines from a year earlier," said Business Insider Australia.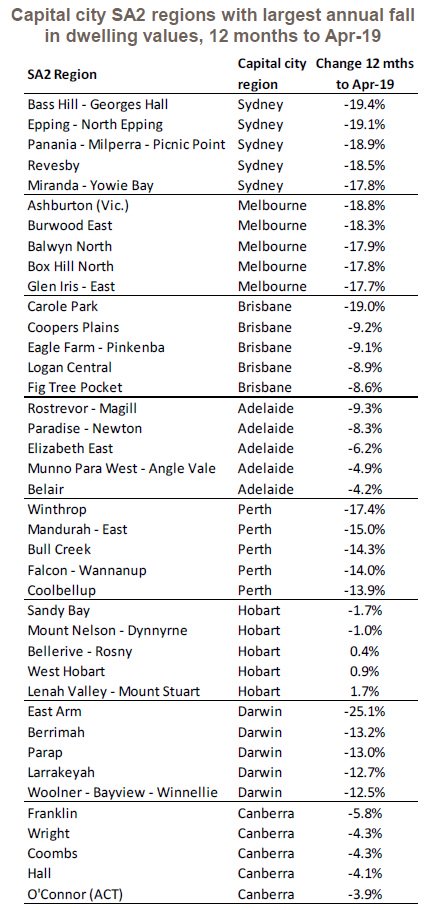 Source: CoreLogic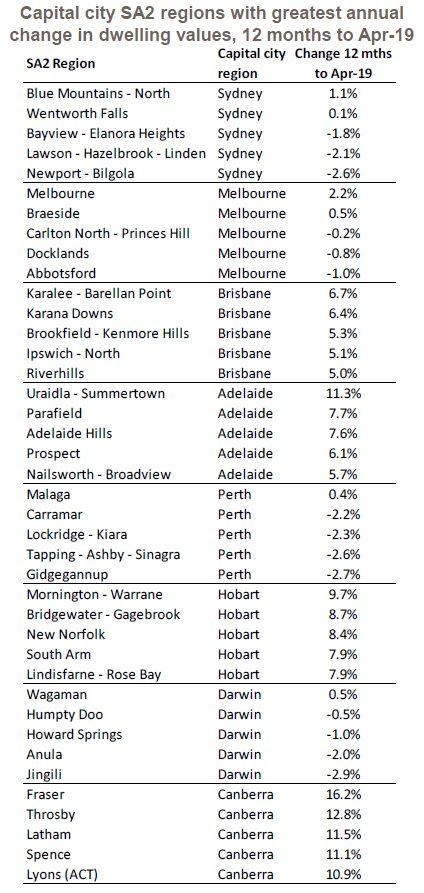 Source: CoreLogic
Source: Your Property Investment 13th May 2019 https://www.yourinvestmentpropertymag.com.au/news/varied-market-house-price-trends-262773.aspx?utm_source=GA&utm_medium=20190512&utm_campaign=YIP-Newsletter-Opener&utm_content=&tu=