It's a dilemma every landlord has to face at some point: when, and by how much, should you increase your rent?
You might fear raising the rent too much and driving your great tenants away, while at the same time you know you'll never achieve property mogul status if you continue leasing your property for rock-bottom rent.
Here are seven strategies proven to boost your rental return, which you can implement across your property portfolio. Of course, this advice is general and does not take the place of speaking directly to your property manager or investment advisor, who should be able to guide you on specifics such as the market rent for the area and what local tenants are looking for.
1. Little and often
By far the most successful way to hang on to good tenants and keep your rental returns increasing is to raise the rent by a small amount every six or 12 months, depending on the legislation in your state.
If you don't increase the rent for several years, then hit your tenants with a $50 per week rise out of the blue, they'll be understandably annoyed and you may find your next communication with them is when you receive their 'Notice to Vacate'!
Instead, try tacking $5 or $10 per week onto the rental amount at a time. Each of these small, incremental increases will be affordable for your tenants, meaning they'll be less likely to jump ship and leave you with a vacant property that'll cost you money to maintain while you find new tenants.
2. Know what tenants want
As a landlord, it's easy to get caught up and throw good money after bad when it comes to making improvements to your property. Unless you know what tenants are looking for, you can't possibly cater for it.
You could spend thousands repainting or installing a dishwasher, when an air conditioner may have made the property much more appealing to potential tenants, at half the price.
Seek feedback from your property manager about the must-have items on tenants' checklists. And if you're unable to offer some of them, such as off-street parking (which you can't manufacture out of thin air), perhaps you can make up for this with another coveted feature, like solar panels to reduce their energy costs.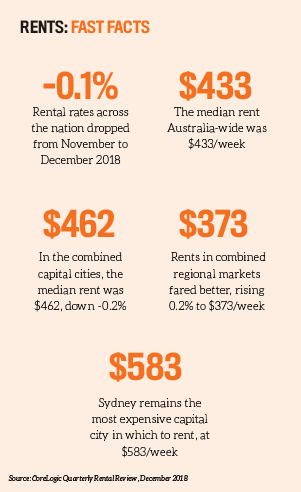 3. Consider allowing pampered pooches
While laws in some states now make it illegal to discriminate against tenants who own a pet, many landlords still prefer their investment properties to be occupied strictly by humans only.
If you're willing to allow pets at your property, your goodwill could see you rake in extra rent from a grateful animal owner. Most tenants with pets will apply armed with references from previous landlords, so you'll know they are responsible when it comes to limiting the damage their pets cause to the property. You may even be able to insert a clause into the lease covering damage done by pets, or to ask for a slightly larger bond amount just in case.
4. Give the property a makeover
It doesn't have to be a super-expensive renovation with all the bells and whistles – improvements as small as a fresh coat of paint or new door handles on the kitchen cabinets could be enough to attract more tenants and bump up your asking rent.
Do your sums to make sure the investment will pay off, and consider speaking to your accountant to ensure you understand exactly what is tax deductible, as this may inform your reno choices.
There are myriad minor changes you can make that will give the property a new lease of life: think sparkling new taps, adding a second air-con unit in the master bedroom, or ripping up the tatty old carpet and polishing the boards underneath. Many small jobs can even be done yourself, saving you the extra expense of calling in a tradie. The rooms that tenants tend to pay the most attention to are the bathroom and kitchen, so your time and money are often best spent in these areas.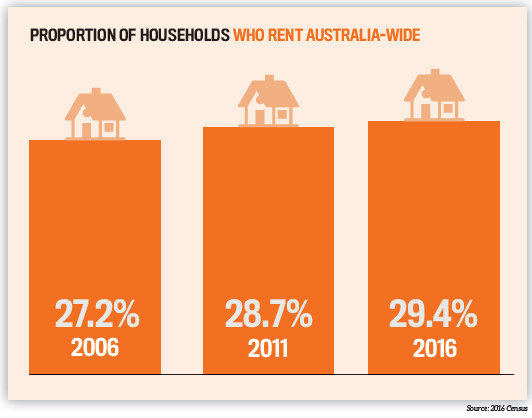 5. Add a unique selling point
Have a look at the rental listings in the area. How many have alfresco entertainment spaces, ducted air conditioning or solar panels? It's well worth considering adding something to the property that will make it stand out from the rest, allowing you to justify why it is a little more expensive to rent than similar nearby properties.
What you choose to add will depend on the location and your target tenant of course, but remember that by improving what you've got to offer you could actually begin to attract a whole new demographic – one that has more spare cash to splash out on rent. For example, professional couples likely crave an outdoor dining space, families will be impressed by a secure yard with safe, flat surfaces for the kids to play in, and eco-lovers will be drawn in by sustainable-power options.
6. Keep on top of changes in the area
Has a new shopping centre, freeway or swimming pool recently been built near the property? What about the awesome local schools, childcare centres and parks?
Don't forget to emphasise these when you next advertise your vacant property, so you catch the eyes of higher-paying tenants. Improvements to services and infrastructure may also boost median figures in the suburb, which you can then use as a reason to increase your own rent. And the best bit is, unlike renovating, it won't cost you a cent!
If you find your tenants fleeing when their lease is up, it could be bad customer service, not the rent, that's sending them packing
7. Audit your property manager
Property managers play a huge role in the success of your rental portfolio, from how they handle repair requests from tenants to giving good advice on when to increase the rent.
If you find your tenants fleeing when their lease is up, it could be the bad customer service they're receiving, not the rent, that's sending them packing. Many tenants are willing to pay a few dollars a week more for a property manager who attends to issues promptly and communicates effectively with them, so it may be time to assess whether the one you've employed is giving you the best chance possible of charging premium rent.
Source: Your Property Investment 7th May 2019 https://www.yourinvestmentpropertymag.com.au/property-management/seven-proven-strategies-for-boosting-your-propertys-rent-262537.aspx?utm_source=GA&utm_medium=20190512&utm_campaign=YIP-Newsletter-Opener&utm_content=&tu=