First impressions are everything. If your property is not quite up to scratch from the very first step forward, then you could not only be missing out on a potential sale (or tenant), but you could also be losing out on tens of thousands of dollars in the eyes of a valuer, which would directly affect the building of your portfolio.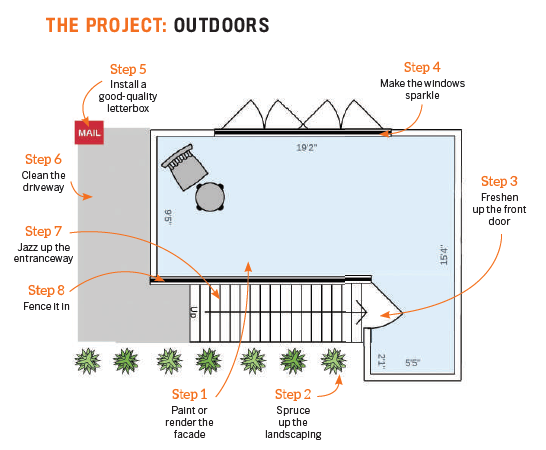 Experts agree that making a good first impression is a crucial factor in attracting buyers. Studies have shown that a large percentage of buyers decide whether or not they are going to buy a home before they even reach the front door – that is why it is vital to make a good impression by creating a welcoming view of the home. This is what's known as 'curb appeal'.
"Improving the appearance of your home could be as easy as a fresh coat of paint and a new letterbox, front door and some garden maintenance, but so often these simple enhancements are overlooked," says Jane Slack-Smith from Your Property Success.
The best way to get started in sprucing up your curb appeal is to leave the property and walk down the street as though you are a potential buyer. Experience the neighbourhood as if you are seeing it for the first time.
When you arrive at your property, what do you notice fi rst? Take a notebook and list everything your eye catches. Is the garden overgrown? Are there cracks in the cement? Write everything down, because these are your opportunities for improvement or enhancement.
You don't need to have a huge budget to make an impact on curb appeal – in fact, improving your home's curb appeal can be quite cost effective.
Step one: Paint or render the facade
A tired facade is the fastest way to put off a buyer, but it's relatively easy to breathe new life into an old design.
A simple paint job on a facade is an easy way to brighten up the overall look of the home.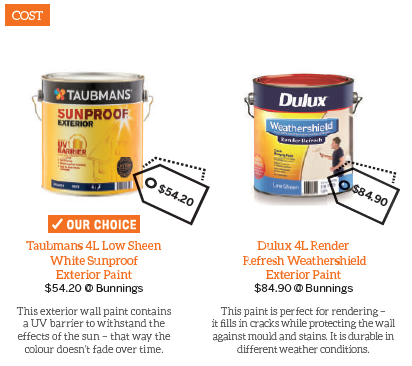 It's also important to replace any broken cladding or weatherboards. Rendering is a great way to change the texture of the home and modernise the design. Rendering starts from around $40 per sqm – to work out the area in square metres, simply multiply the length of each wall by the height.
Top tip
Consider what your wall is made of. You may only need to render the front of the house, not the side, to keep costs down – it's all about what buyers can see from the street.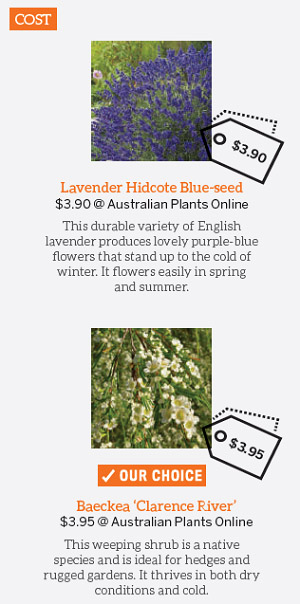 Step two: Spruce up the landscaping
By putting in a few architectural plants such as cordylines, along with some black-dyed mulch, you can achieve smart-looking landscaping and give a real lift to the curb appeal of your home.
Replant with hardy, low-maintenance plants to make the yard look beautiful and healthy, as well as to minimise renters' maintenance.
Examples include perennial flowers such as lavender, and native shrubs and trees.
If new plants aren't in your budget, then simply work with what you have. Trim down any overhanging plants and neaten up any existing flower beds.
Top tip
Make use of the design services at your local nurseries.
These are often offered for free or at a minimum charge, at the end of which they provide you with a landscaping design plan and plant list.
Step three: Freshen up the front door
The first impression on approaching your home can mean the difference between a buyer loving it and hating it.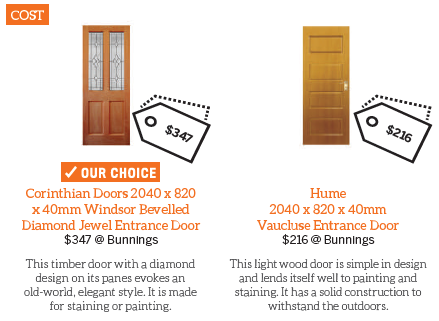 Making the entrance to your home clean, light and welcoming is therefore very important.
Your front door is crucial in this respect. If it's old and battered, that's not just a blight on the appearance of your home; it's also a potential security issue. It pays to invest in a new door – you can choose from plain doors or those with opaque panes.
At a minimum, look into getting a new knocker and handle if you love the look of the original door.
Top tip
A new coat of paint or a fresh finish can immediately make an old door feel like new. It's important, however, to first ensure that the door closes and locks properly.
Step four: Make the windows sparkle
Windows that clearly offer a great view of the outdoors from within the home are an important part of the first impression your property leaves. They show a potential buyer that the home lets in a lot of natural light.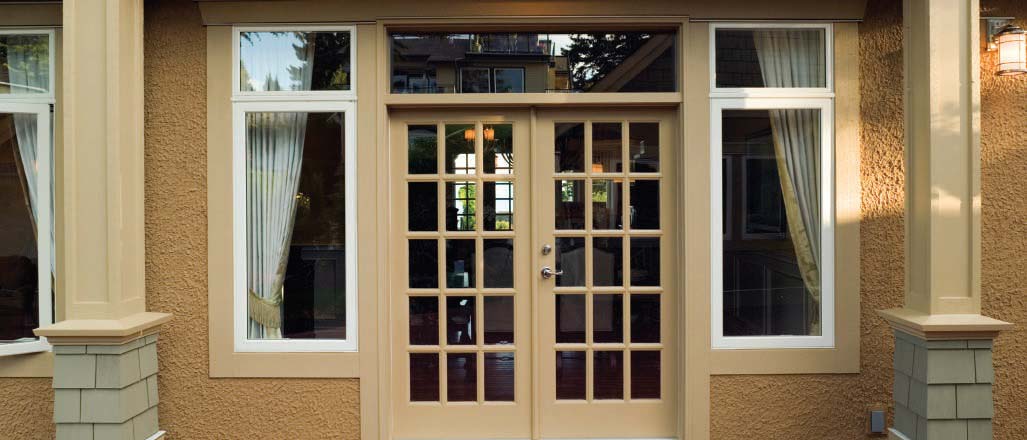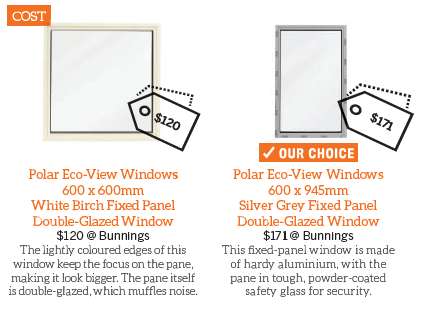 This one may seem obvious, but thoroughly cleaning your windows inside and out will make your home appear loved and looked after. Ensure they are free from cobwebs and bird droppings, and use a clean squeegee to avoid streaks.
Remember to clean any fixed blinds or roller shutters and repair any fittings that may not be working.
Top tip
Large windows are great for a property, but do ensure that you maintain privacy with well-placed blinds and curtains. The windows should be sealed properly to prevent leaks, especially in harsh weather.
Step five: Install a good-quality letterbox
An old, rusty letterbox certainly won't add any extra points to your facade.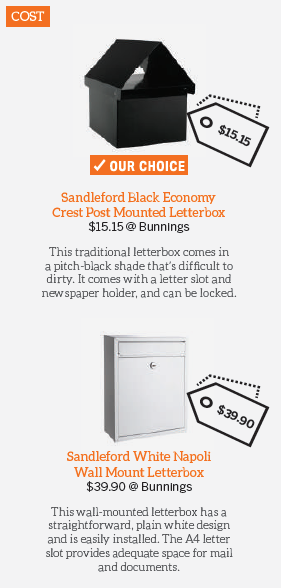 Choose a nicely designed letterbox that matches the facade of your home.
A simple fence-top box will do the trick, or you can opt for a built-in brick letterbox if your budget allows. New house numbers can add an extra personal touch.
A letterbox may seem like an old-fashioned element to be thinking about, but renovation is about the little details and what they can add to or detract from your property.
The accessories in your front yard should complement everything else leading up to the entrance door.
Top tip
Go for letterboxes that have weather-resistant slots so that you don't get soggy envelopes.
Locks on the door should be a major consideration so that your mail doesn't fall into the wrong hands.
Step six: Clean the driveway
Cracked concrete, oil stains and discoloured gravel are to be expected on a well-used driveway, but they can become an eyesore.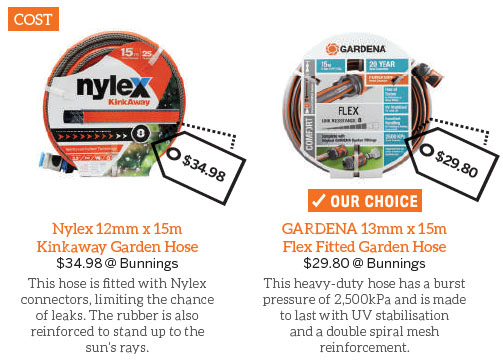 Seal any cracks and clean oil stains with a driveway cleaner, and utilise a high pressure hose or degreaser. Not only does the end result look pristine but you'll feel a lot cleaner!
If your driveway needs a bit more love, you could consider spray-on paving. In this case, a stencil is applied and a concrete mix is sprayed over the top of your existing concrete. There are many designs and colours to choose from, and the look it creates can make a huge impact.
Top tip
A quality hose is a good investment for a property. It would be wise to get a hose with a long warranty, one that is made to endure, especially in the sun, and does not kink or tangle easily.
Step seven: Jazz up the entranceway
If your house has a front porch that is made of paving or concrete, consider cleaning and painting it using masonry paint.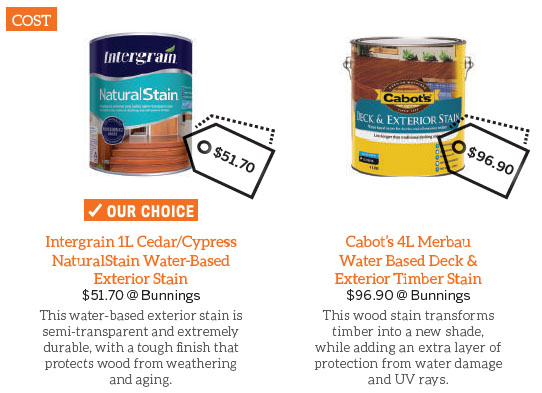 If your entranceway is timber board or decking, then you should look into giving the wood a treatment with deck oil such as linseed.
Should the material need more work, you can completely strip it back and re-stain instead. If you're looking to make a major change, timber stains come in different colours and can alter the look of wood drastically. Remember to check for any broken boards and replace anything that squeaks.
Top tip
After applying a stain, it's important to maintain timber surfaces with deck oil to seal and protect against heat, scratching and water. Linseed oils also work on concrete and stone floors.
Step eight: Fence it in
The fence is the gateway to the home, and how you treat the gateway can reflect how you treat the property.

Replacing an old falling-down rusty fence with a nicely painted picket fence can really set off the property. Even if you don't have a fence in the first place, erecting one is a great way to add an aesthetic element while enhancing the security of the property.
You can find fences in various makes, such as aluminium and wood. Aluminium fencing is low maintenance, although it may not hold up well in harsh weather. On the other hand, wood is very popular for its sturdiness and safety.
Top tip
The quality of the wood you select for a fence dictates how long and how well it will hold up. Thus, ensure that the wood type and its finish are sturdy enough for the conditions in your area.
CASE STUDY
Russell is a maintenance engineer at a theme park by day, but he took five weeks' annual leave to attack this whole-house renovation with a focus on first impressions – and the results are stunning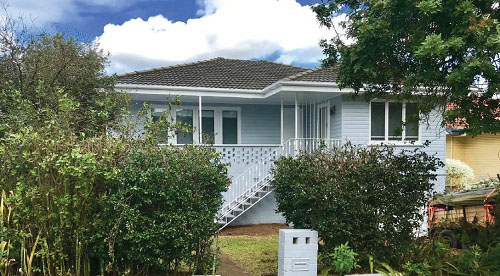 Russell knew his investment property had potential, even though it was the 'sore thumb' of the lush and tropical Queensland street. His typical Queenslander weatherboard home was hidden behind a fortress of 10-foot hedges, a towering tree and a mess of old bricks and garden waste. Given the state that it was in, he knew he would not be able to get the rental return he was looking for.
"I needed to present the home in a way that was attractive to any potential
tenants, but that was also low maintenance and, of course, within budget."
Russell had spent five weeks renovating the inside of the home and was confi dent that he would be able to rent it out. He just needed to lift the curb appeal to get people through the door.
In half a day, Russell was able to transform the exterior of his house from the ugliest property on the street into a prized investment. He removed the majority of the low-lying foliage and sliced the hedges down to four feet.
"The neighbours were shocked when I took down the hedges. I left the front yard for last, so that when I cleared all the scraggly foliage, it turned into a big reveal of the whole home."
Russell didn't need a huge budget to lift the street appeal of his home – all he needed was a chainsaw, a shovel and some good old hard yakka.
"At first I didn't know what to do to improve the home. I had originally planned to gut the whole yard and put in all new plants, but the budget was limited," he explains.
"So with some input from my agent I decided to use what I already had and clean it up. It was definitely the right decision and is now the perfect low maintenance garden for my tenants."
The facade of the home itself did not require much work as it had been painted prior to purchase; however, Russell spruced up the paint on the windows and balustrades to liven it up even more.
Ultimately, Russell proved that you can lift curb appeal with nothing more than a couple of litres of paint, three trailer loads of green waste, and a morning of hard work.
Source: Your Investment Property 29th October 2018 https://www.yourinvestmentpropertymag.com.au/property-renovation/reno-focus-outdoors-256483.aspx