The kitchen is the big-ticket item in every renovation. It is the room in the house that sees the most action, and it has everything going on – cooking, refrigeration, dishwashing, cleaning, eating and everyday living.
It is often the first room a potential buyer looks at when walking into a home, which is why it stands to reason that a great kitchen renovation can increase the appeal of a home and add value. After all, the kitchen is considered the heart of a home. However, because of its importance, it can also quickly turn into a money pit when you're in renovation mode.
Your budget will dictate how much you spend on your kitchen renovation. If you will be living in your home for 10 to 15 years or even longer, then spending on a major home renovation will provide you with value over the long term and is worthwhile. If your kitchen reno is for an investment property, then you can afford to be a little more economical with your choices.
When you are renovating an investment property to sell, or sprucing up a rental property, then you need to find the right balance between how much you spend and the estimated value that your renovation will add to your selling price or rental income. Seek out the opinion of a couple of local real estate agents who understand your area and know what buyers and renters are prepared to spend – then you can do your sums and spend wisely.
STEP ONE: OUT WITH THE OLD, IN WITH THE NEW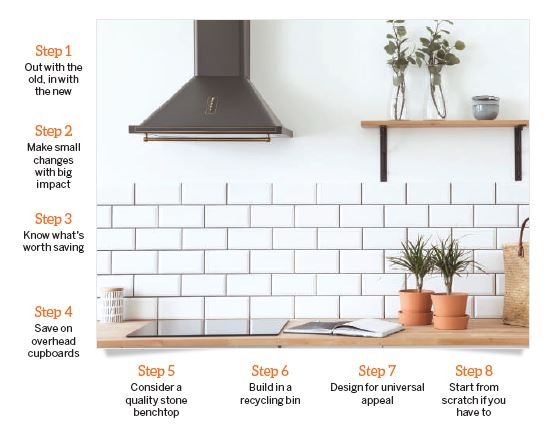 With so many moving parts, the kitchen can be the most expensive room in the home to renovate. Thus, establishing a budget for your project is the best way to start. Decide what you can afford to spend – this will dictate what you can and can't achieve.
If you're renovating on a shoestring budget, one easy way to perk up a kitchen instantly is to update its existing features. Install new appliances and replace the splashback, which can get very grubby and dated over time. You can also replace cupboard handles and install new fixtures, such as modern sink mixers, to create an image of new without the price tag.
TOP TIP
Acrylic splashbacks are tougher in some respects than glass splashbacks, but the heat resistance of toughened glass is considerably stronger than that of acrylic, making the former more suitable for use near heat sources.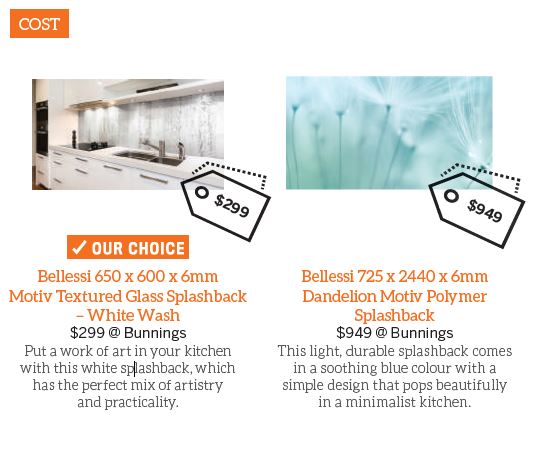 STEP TWO: MAKE CHANGES WITH BIG IMPACT
It can be hard to make purely cosmetic changes to a kitchen, given the abundance of fixtures. However, you also don't necessarily have to do a complete overhaul. Sometimes, simple replacements can effectively alter the aesthetic of your kitchen.
"If you can afford to stretch your budget a little further, you can obviously achieve a more signifi cant renovation," say Steve and Suzanne Burke.
"By keeping the kitchen cabinets as a basic shell, you can go one step further and replace the benchtops and cupboard doors too. This can completely transform the look and feel of the kitchen."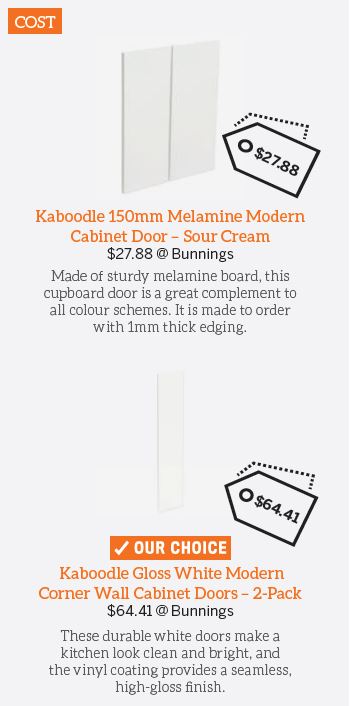 TOP TIP:
A vinyl finish is the most popular material for kitchen cabinetry because it is so well sealed. Vinyl-coated doors are thermoformed, which means they are created through heat and vacuum applications.
STEP THREE: KNOW WHAT'S WORTH SAVING
A smart way to save in the event that more significant changes need to be made is to try to retain the core layout of the kitchen.
"If the old kitchen is not worth saving, then a complete replacement of the kitchen is worth considering. By keeping it basically in the same place on the fl oor plan, you will make savings by not moving the plumbing, electrical and flooring," Steve and Suzanne advise.
"Limited modernising of the layout may be possible. By removing the old cabinets and replacing them with new ones, you will be able to reconfigure the layout of your cupboards and drawers, which can completely transform a kitchen."
TOP TIP:
Wall cabinets are a good way to change up the layout and look of your kitchen while limiting the effect on existing electrical and plumbing connections. However, in the wrong layout, wall cabinets can make a space look cramped.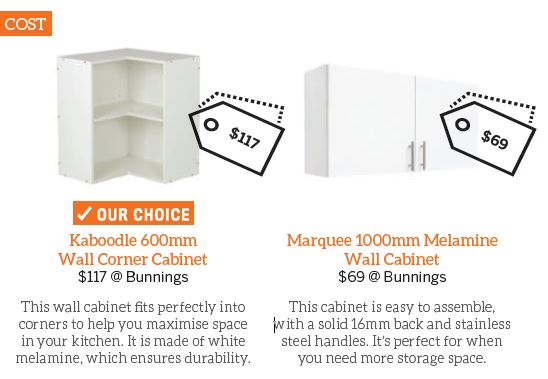 STEP FOUR: SAVE ON OVERHEAD CUPBOARDS
If all-new kitchen cabinets stretch your budget a little too much, a good alternative is to install open shelves.
"Kitchen cabinets can be expensive. If you have a large number of overhead cupboards in your new kitchen design, consider converting them to open shelving instead – this can look quite attractive and save you plenty of money too," say Steve and Suzanne.
Open shelves add not just storage space but the illusion of space in the kitchen. With some well placed knick-knacks, these shelves can even become the design centrepiece of the room.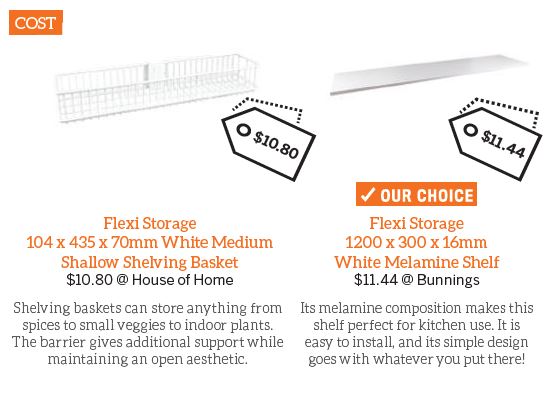 TOP TIP
Plants are a great decorative element to add to a kitchen. If you're facing a window, plant some herbs to snip and sprinkle into your dishes, or arrange a few succulents for colour.
STEP FIVE: CONSIDER A QUALITY STONE BENCHTOP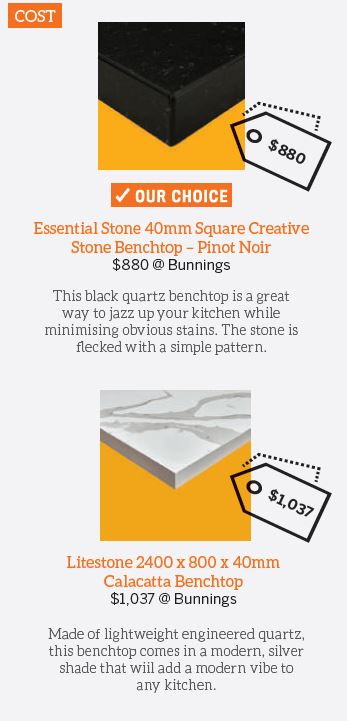 Nothing embodies sophistication in a kitchen quite like stone benchtops do. They can be expensive, but you know you are getting a quality product that will last, especially with punishing kitchen activities like cooking and washing.
"If you are replacing your benchtops – and your budget allows it – install a stone benchtop. Stone benchtops have durability and longevity on their side, are easy to look after and give any home a touch of luxury, style and class," say Steve and Suzanne.
"If you are looking to sell, this will give your home a big tick of approval!"
TOP TIP:
Engineered stone benchtops are a good compromise if you don't have the budget for natural stone. But be warned – they are slightly less heat-resistant, so you will need to avoid placing a hot pan directly on the surface.
STEP SIX: BUILD IN A RECYCLING BIN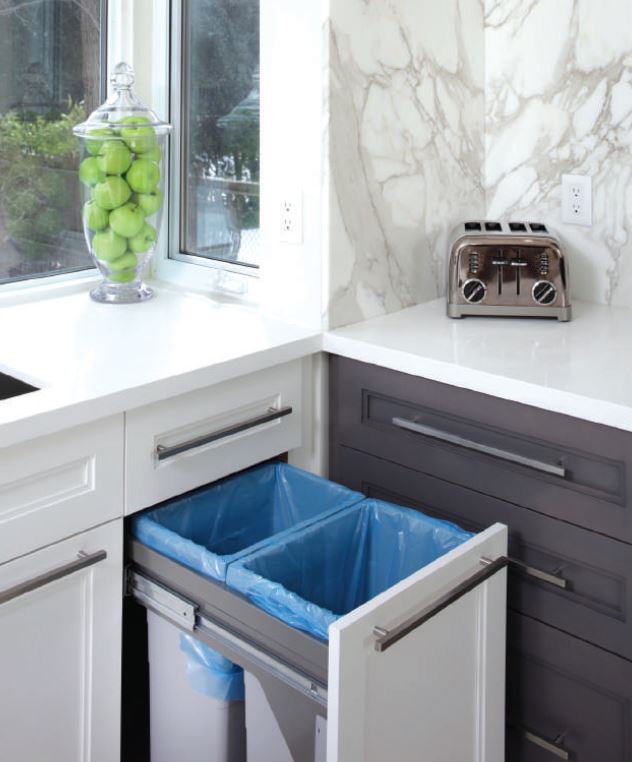 Every kitchen needs a bin, but nowadays we increasingly need more than one bin. As a minimum, we need one for general waste and one for recycling.
If you can build pull-out bins into your kitchen cabinet design to allow for this, that is ideal, although these can be expensive to custom-fit; they can cost upwards of $1,000 for the most streamlined versions.
Instead of spending your reno budget on this, look for opportunities to create space for a bin inside a cupboard or pantry so it's tucked away out of sight.
TOP TIP
Do the planet a favour and sort the trash from your kitchen with care – leftovers from dinner should be separated from paper, and bones should be disposed of differently from other food items.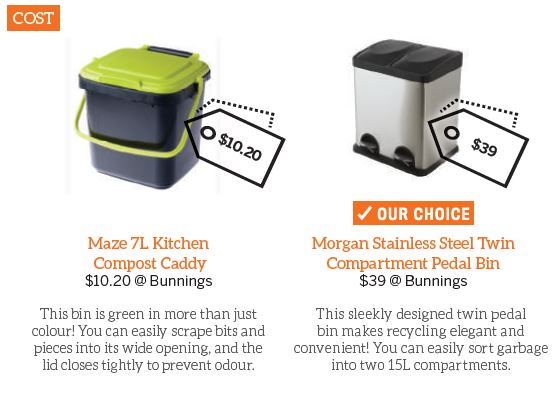 STEP SEVEN: DESIGN FOR UNIVERSAL APPEAL
While many buyers like to think they're COST living in what will be their home for life, that's often not the case, especially for young couples and families. So you should decorate not just in accordance with your own taste but also to capture the interest of a potential buyer or renter. This is relevant for investment properties too, which need to stand the test of time so they don't become dated.
"A white kitchen reflects light and promotes a feeling of space and freshness. If you are stuck when deciding on colour schemes, you cannot go wrong with a crisp white kitchen with classic stainless steel appliances," say Steve and Suzanne.
TOP TIP
A fresh coat of clean white paint goes a long way towards freshening up kitchen walls. However, it is important to ensure that you're using paint that is made for the hot, humid atmosphere of the room.
CASE STUDY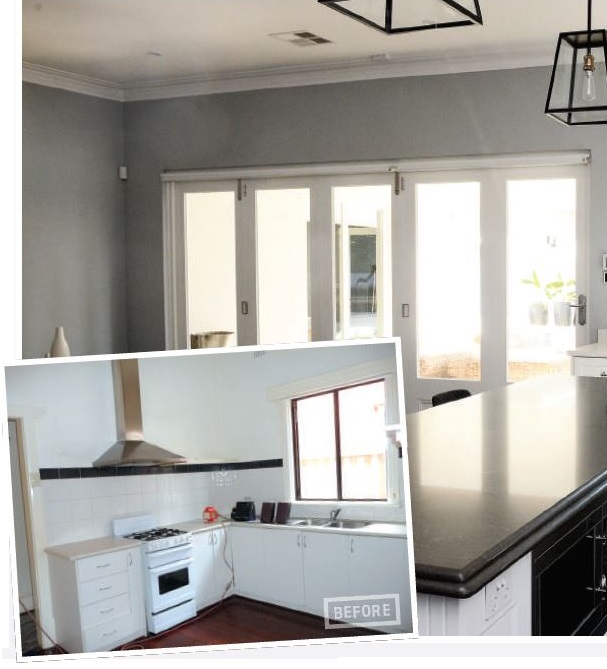 The Burkes went into complete makeover mode to give a dark, cramped and dated kitchen a fresh start
Steve and Suzanne Burke had their work cut out for them when they were tasked with the transformation of a gloomylooking kitchen.
"It had all the hallmarks of a 1970s kitchen, with heavy brown timber cupboards, laminate benchtops and a basic stainless steel sink with very basic washroom-style tap fittings," they explain.
"The room had a dark and gloomy feel, lacked storage space, had old clunky cupboards and was looking dated – well and truly past its prime."
Given the lack of space and poor original layout that added to the claustrophobic feel of the kitchen, the Burkes made the decision to strip it down completely.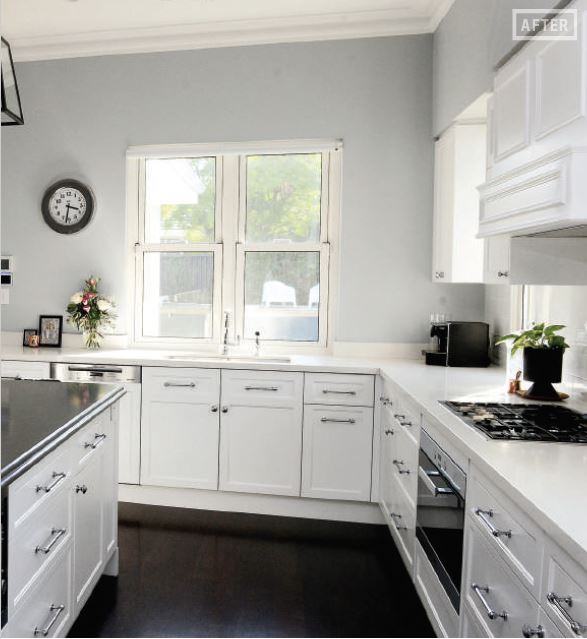 "The kitchen design was modernised with an island bench, and the wall that separated it from the living area was removed. Access to the kitchen was opened up, allowing the floor plan to flow more naturally."
Steve and Suzanne replaced the laminate benchtops with sturdier quality stone benchtops. Storage space was built in as the original wall tiles were stripped and replaced with several cabinets. They maximised cupboard space by adding a spice-rack drawer and a pull-out cupboard insert to utilise a corner space. The original windows were changed to let in more sunlight.
Then the Burkes installed quality tapware, an under-bench oven, a microwave, an under-mount sink and a concealed dishwasher to upgrade the functionality of the kitchen. They painted it in a primarily black and white colour scheme for a clean, stylish and modern aesthetic.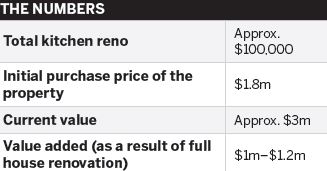 The Hamptons style was the inspiration for the look of the kitchen, and it was achieved with white panelled cabinetry, quality pendant lighting and dark staining of the fl oorboards," the couple explain. "The end result is a kitchen that reflects the natural light – it looks and feels modern and spacious."
Indeed, the final product got the rousing approval of the homeowners.
"It is timeless and is in-between old and new without being too much of one style or the other," they said. "We love how it looks and feels, and how practical it is. We also love how well we function in it as a family of fi ve and with parties of 60-plus people!"
STEP EIGHT: START FROM SCRATCH IF YOU HAVE TO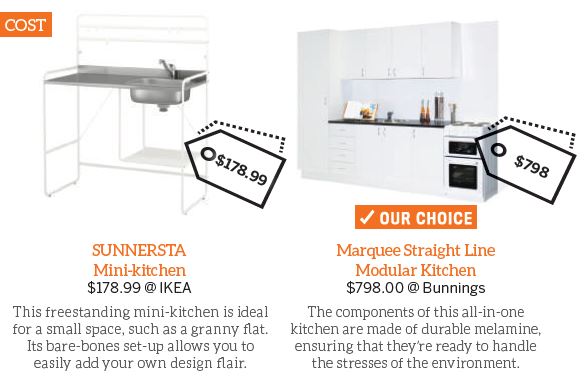 Sometimes your plans or the existing COST damage dictates that the whole room needs to be redone completely.
"If you are undertaking a home extension, then it could be the case that your new floor plan will have the kitchen in a completely new location," Steve and Suzanne say.
"This is your most expensive option and will cost you upwards of tens of thousands of dollars, but it is also the option that will give you the most freedom to design and install the kitchen of your dreams. If done well, it will most certainly add value to your home."
TOP TIP
Many companies will make flat-pack kitchens that you can customise to order. You can select your desired cabinets, accessories like door handles and hinges, doors and panels, as well as benchtops and splashbacks.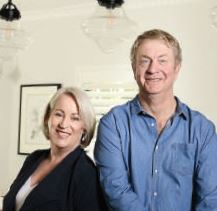 Steve and Suzanne Burke are the owners of Amerex Renovations and Additions, and co-authors of Nail Your Renovation Without Getting Screwed
Disclaimer: All products and prices listed are correct at the time of printing. The advice contained in this article is for general information only and should not be taken as financial advice. Please make sure to speak to a qualified professional person before making any investment decision.
Source:  Your Property Investment 23rd August 2019 https://www.yourinvestmentpropertymag.com.au/property-renovation/reno-focus-kitchen-264926.aspx?utm_source=GA&utm_medium=20190829&utm_campaign=YIP-Newsletter-Opener&utm_content=&tu=