House Prices Still On A Winning Streak
Combined house prices across capital cities remained on an uptrend in March, but the uncertainties resulting from the COVID-19 outbreak dampened the supposed gains, according to the latest analysis from CoreLogic.
While housing values continued to rise by 0.7%, the slump in consumer confidence and the social distancing policies have moderated the gains over the second half of the month, said Tim Lawless, head of research at CoreLogic.
"The national March reading emerged as the lowest monthly gain since the market lifted in July last year," he said.
On a monthly basis, Darwin reported the highest increase in house prices at 2%, bringing its median value to $392,348. Sydney followed with a 1.1% gain to $882,849.
Over the past three months, however, Sydney recorded the most substantial price growth at 3.9%. Since last year, dwelling values in Sydney have increased by 13%.
The infographic below shows the monthly, quarterly, and annual changes in the median dwelling values across capital cities: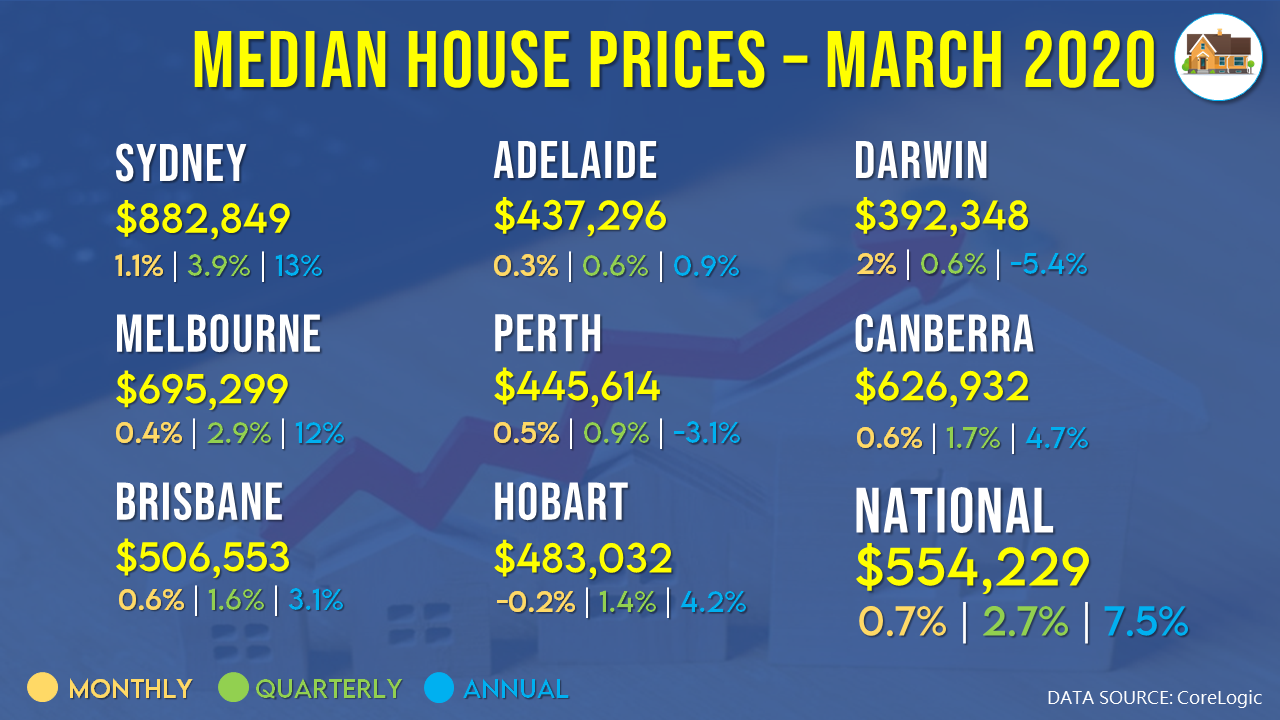 Lawless said recent trends in the market have become "less relevant" given the uncertainties due to the coronavirus outbreak, which is likely to influence household confidence.
"The housing market won't be immune to a drop in sentiment and weaker economy, however the extent of the impact on dwelling values remains highly uncertain," Lawless said.
Lawless said trends will depend on how long it will take to contain the virus and whether additional constraints on business or personal activity are introduced.
Still, there is an expectation that sales activity will fall dramatically over the coming months as a result of weak consumer confidence, rising joblessness, and stricter lending rules.
"Restrictions on open homes and on-site auctions will compound the slowdown in buyer activity, as would any future policy announcements related to peripheral services such as building and pest inspections, conveyancing and furniture removals," Lawless said.
However, Lawless believes property values will be more insulated than sales activity, given the temporary nature of the current crisis and the efforts of the government to provide stimulus.
"The extent of any fall in housing values is impossible to fathom without first understanding the length of time this health and economic crisis persists.  Arguably, the longer it takes to contain the virus and bring economic operations back to normal, the higher the downside risk to housing values," he said.
Source: 06/04/2020 Your Investment Property https://www.yourinvestmentpropertymag.com.au/news/house-prices-still-on-a-winning-streak-270769.aspx?utm_source=GA&utm_medium=20200402&utm_campaign=Newsletter-Opener-20200403&utm_content=FB30EBA4-A343-4537-A961-B966FABA4B8F&tu=FB30EBA4-A343-4537-A961-B966FABA4B8F