When it comes to renovating a property, particularly for investment purposes, many people place the garden low on the list of priorities. There is a mindset that the outdoor portion of the home is not as important as the inside.
Being left with the dregs of a renovation budget can mean your garden ends up lacking in the inspiration stakes.
"Normally, when people are renovating a house and garden, they blow out the budget on the interiors, thinking they can save money on the exteriors. And the overall finish is let down quite a lot," says Inspired Exteriors director Charlie Albone.
Since the garden is one of the first parts of a property that people see, the Selling Houses Australia landscaping expert emphasises that this is the wrong approach to take.
"You can ruin a whole project by having one area that's really bad. It's important to stick to your budget and execute a nice finish all the way through. Remember that a garden renovation should be similar in quality to your house renovation."
When renovating outdoors there are factors to consider that you ordinarily wouldn't need to think about indoors, like the elements. But with careful planning you can give your property's garden a facelift to dazzle the senses and create an inviting atmosphere that appeals for years to come.
"The more you plan, the more you can push your budget in different directions"
STEP ONE: CREATE YOUR VISION
The first and most crucial step in doing any renovation is to decide exactly what you want to achieve from the outset.
"The more you plan, the more you can push your budget in different directions. So, when we talk about planning, we talk about working out how much things are going to cost and how much time they're going to take, and ensuring that's realistic," Albone explains.
Are you planning to live in the property yourself? Is it going to be rented out or sold? Understanding the purpose of the garden renovation will go a long way towards helping you determine what kind of aesthetic you should go for.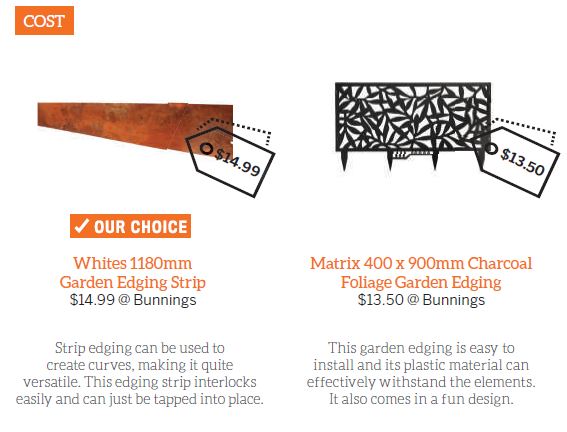 TOP TIP
If you're looking to set a garden bed apart from the lawn, edging is a great way to separate these elements while adding a style accent. Steel edging is more durable but less flexible than plastic.
STEP TWO: CHOOSE THE CENTREPIECE
Every good garden is designed around a central theme, or centrepiece, that draws the attention of visitors to a specific part of the area. This could be flowers, plants, a unique wall or even a water feature.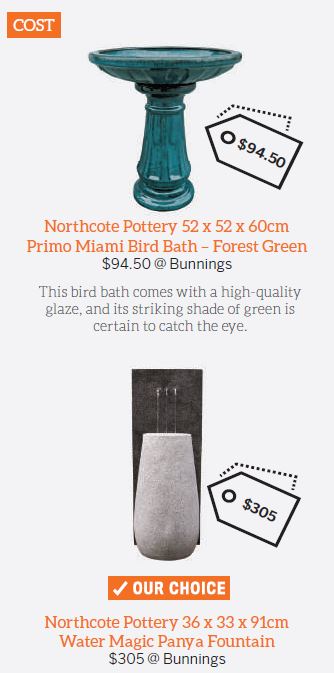 Your garden's centrepiece will tie into your personal vision of what you want the space to be and the aesthetic you want to achieve – so you can't start working without knowing what will appeal to you.
"[When working on a project], we start with what the client likes and then dissect the space as needed," Albone says.
TOP TIP
In choosing a centrepiece for the garden, look for standout features like colour and texture. Make sure that no other aspect of the space will overpower it, and position your centrepiece in a prominent area.
STEP THREE: CULTIVATE A DIFFERENT WORLD
A garden isn't just a space you festoon with plants and some outdoor decor before calling it a day. You want it to be a space that you or other people can go to and find a refuge, an escape.
For Albone, one of the best ways to achieve this is by putting in a water feature, as water is known for its ability to soothe. This also makes it ideal for city dwellers.
"By adding the movement with the water, you add sound as well, and that helps transport you away from innercity life," he says.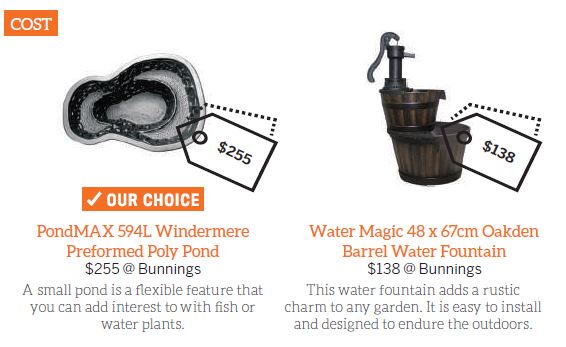 TOP TIP
When you're working with water fountains and other water features, always ensure that the product comes with a warranty in the event of a breakdown. Water damage can do serious harm if left unchecked.
STEP FOUR: STAY WITHIN THE LAW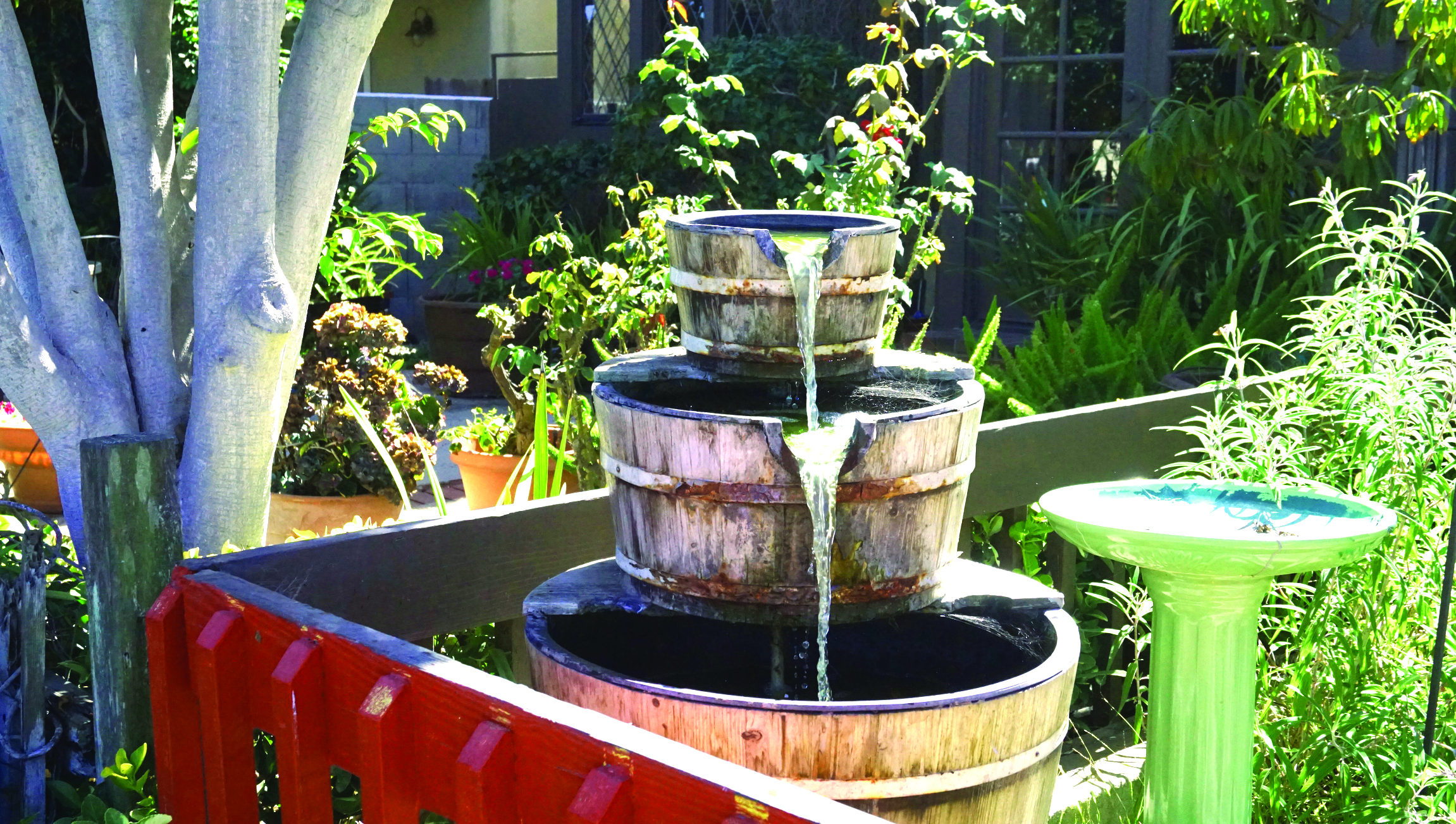 If you're making big changes like adding a large-scale water feature, you need to check whether you require council approval. Talk to your builder, or look up the standard at your local council. It may take some time, but this will ensure that your work isn't interrupted or wasted.
In the meantime, you can update other features of the garden. For instance, you may need to change the flooring to something that's built for a wet environment and can hold up to different weather conditions. Stone pavers are usually ideal for outdoor flooring.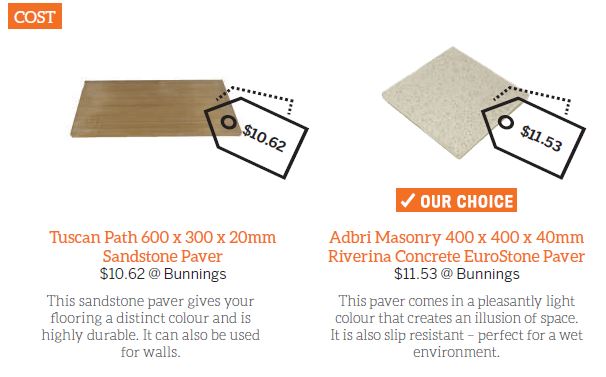 TOP TIP
When laying down natural stone tiles, it's important to ensure that you seal them properly with a paving sealer that is suitable for the material. To prevent accidents, use a non-slip sealer if the stone is slippery.
STEP FIVE: ENHANCE WITH GREENERY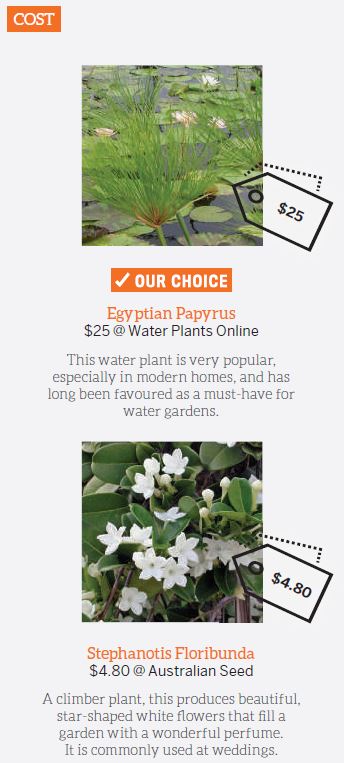 Nothing defines a garden more than plant life, and for many, a bed of flowers is a great centrepiece. But even if they're not the main focus of the space, plants can add the right oomph to your garden.
If you don't have a green thumb, or you're renovating an investment property and want to keep it low-maintenance for the tenants, there are many plants that are hardy and thrive even with little care.
For instance, philodendrons are ideal for mass planting, adding texture and character, and can get by with light shade. If you have a water feature, water plants are an attractive addition.
TOP TIP
Green isn't the only colour you can use, even if flowers aren't your centrepiece. A few pops of colour here and there will add variety, and flowers can also soften the look of your garden.
STEP SIX: SHINE A LIGHT ON IT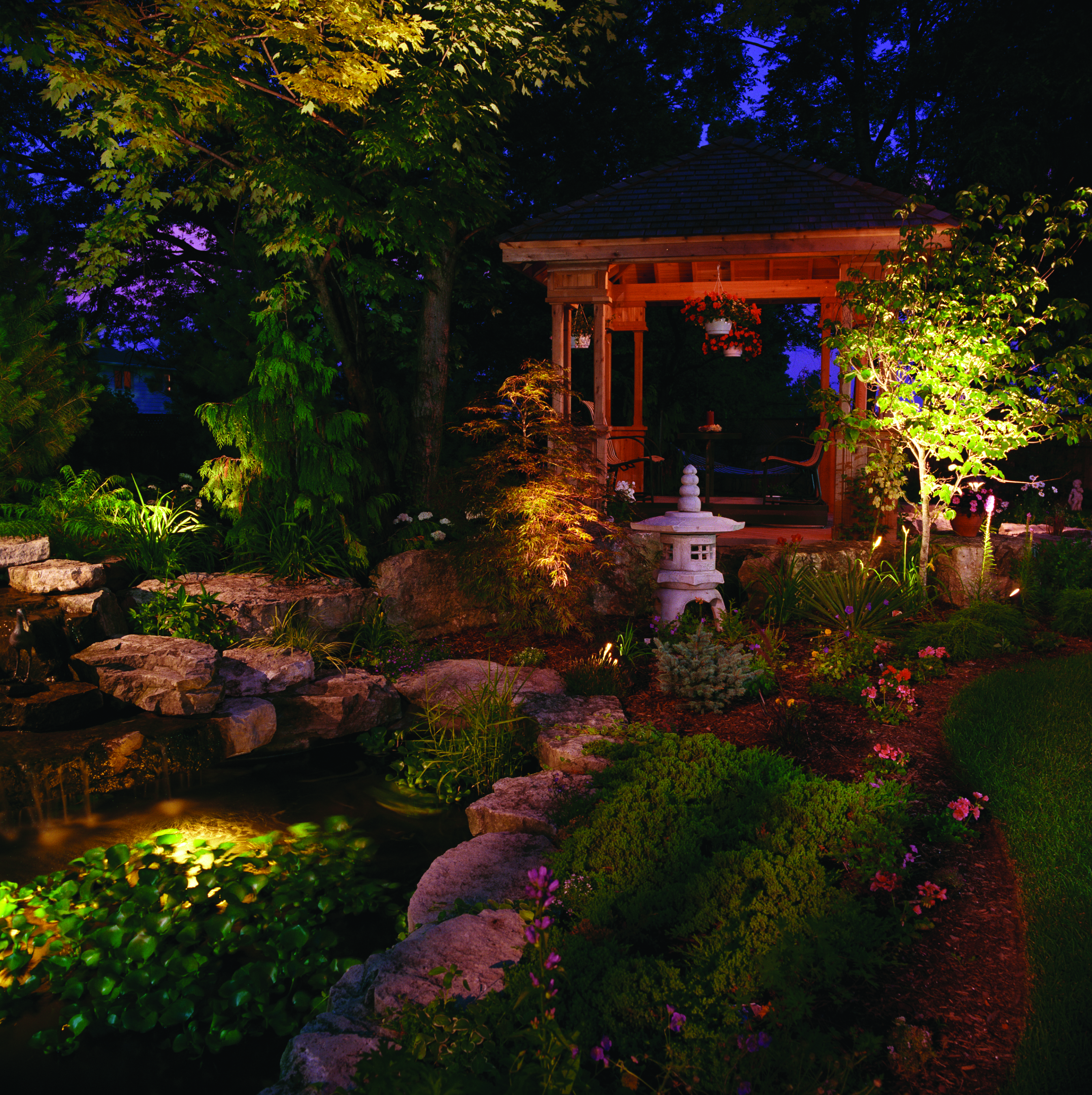 Outdoor areas can look stunning by day, but when the sunlight fades, so could the beauty of your garden if you don't keep the space properly lit.
Soft lights are the way to go if you want to create a warm, intimate atmosphere, and they are ideal for small gardens. Wall sconces or brackets provide excellent illumination while being subtle, and fairy lights can give the space an ethereal, transcendent vibe.
If you have a water feature, pond lights are a must for spotlighting its tranquil appeal in the evenings – and for safety reasons!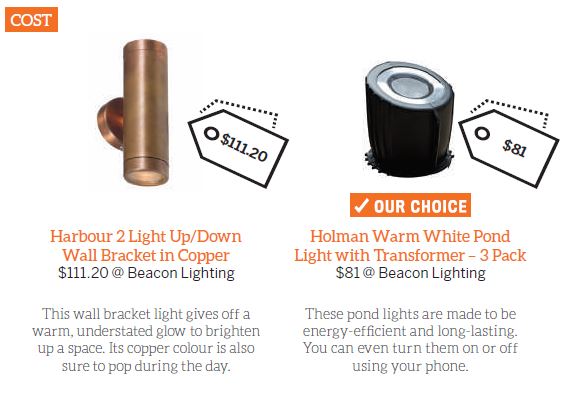 TOP TIP
If you're feeling rustic, lanterns are a charming way to decorate your garden – there are varieties that can be left outside, while traditional lanterns must be brought inside the house after use.
STEP SEVEN: DRAPE THE WALLS
Wall gardens are a great way to save COST space if you have a small garden but want it to look lush and rich. They can also help you maximise any unused outdoor space. You can grow everything from succulents to shrubs to vines, and even fruit trees like orange and lime, as Albone did with one garden project.
Wall gardens can also help you hide features like an unsightly wall and even serve as a fence by creating a private environment. Since wall gardens function via a hydroponic system, they often don't need soil.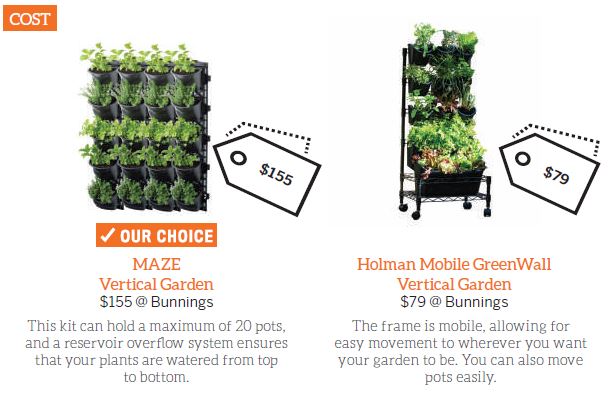 TOP TIP
Flowering perennials look great in a wall garden. By growing herbs, fruit and vegetables, you can also make your garden functional as well as pretty.
STEP EIGHT: AIM FOR DURABILITY
The materials used to renovate a garden must be chosen for their ability to last in the outdoors.
"If you're trying to push your budget out, you should use expensive, high-end materials in the key areas that are going to be seen the most," Albone advises.
For instance, if a feature wall is your garden's centrepiece, you need to allocate more of your budget to strong material that is guaranteed to hold up against the elements, like natural stone. This material has an earthy vibe that makes it perfect for the outdoors as well.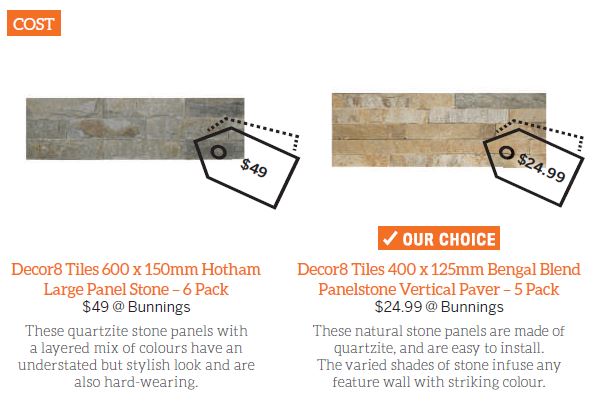 TOP TIP
According to Albone, natural stone "brings a lot of warmth and a sense of quality" to your garden. It's also a low-maintenance material. To avoid dirt build-up, set a regular schedule for scrubbing the cladding with a soft brush before rinsing.
CASE STUDY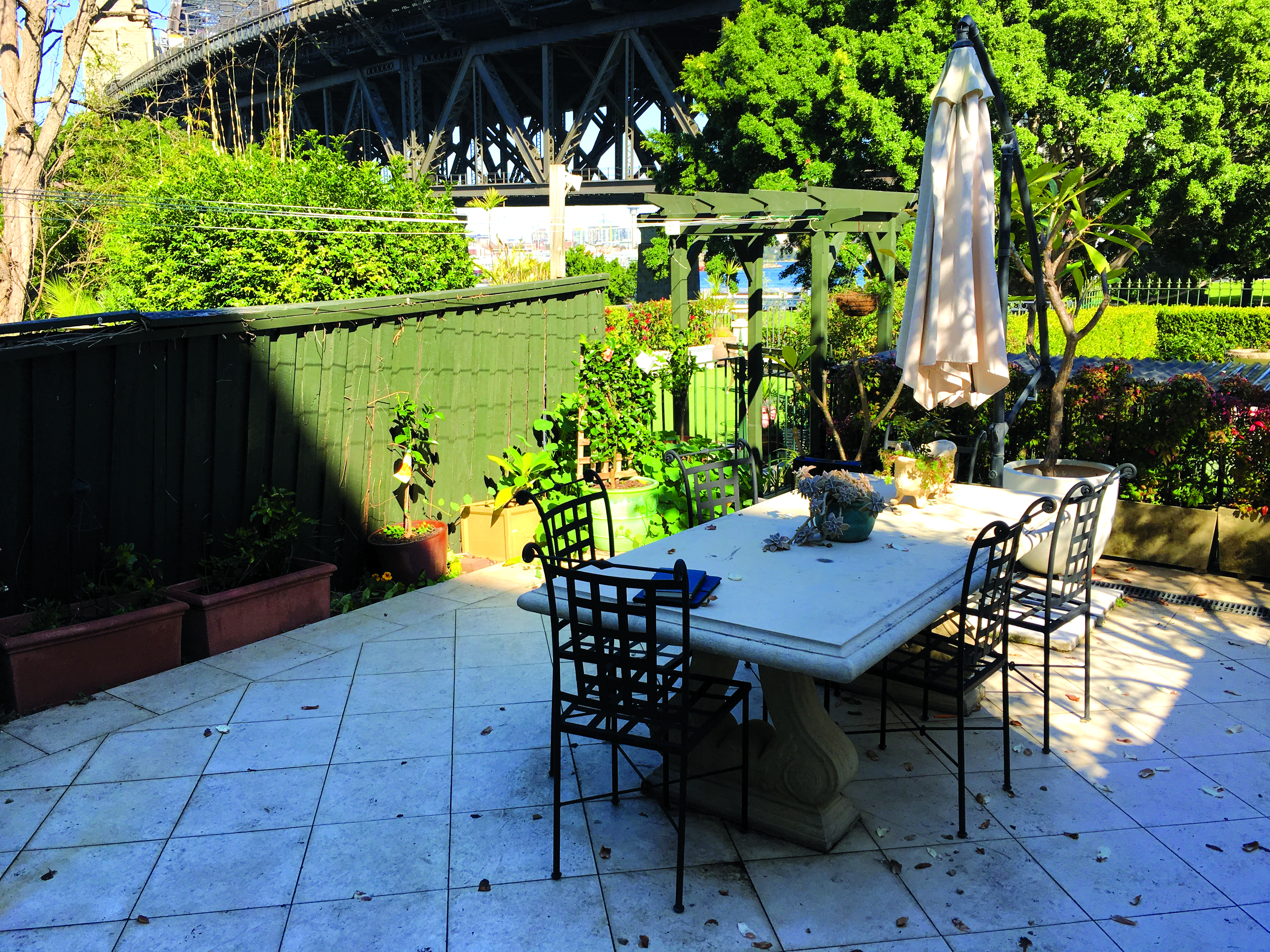 Before
Faced with the prospect of working on the courtyard of one of the oldest terraced houses in NSW's North Shore, Charlie Albone sought to capture the spirit of the client's desired style.
"The clients were doing a renovation on their house to connect it to the garden, and they realised they had to do some landscaping to make that possible," he says.
"They wanted a formal style in their garden, which suited the architecture of the house. The garden was split into two – the rear over the garage was a lawn, and the main area that we focused on was the courtyard."
Albone immediately identified a good way to mark out the boundary of the courtyard to separate it from the garage. He also installed a water feature as a centrepiece for the garden.
"The water feature worked so well because it screened out the steps going to the lower area. It helped to enclose the space and gave it a nice backdrop. The clients were also very good with their plants, so they wanted some water plants and fish," he says.
"You can sit on the edge of the water feature and look at the fi sh while the harbour bridge is there in the background."
Since the water feature was serving such a central role in the garden, Albone chose to splurge on it, using natural stone for its wall.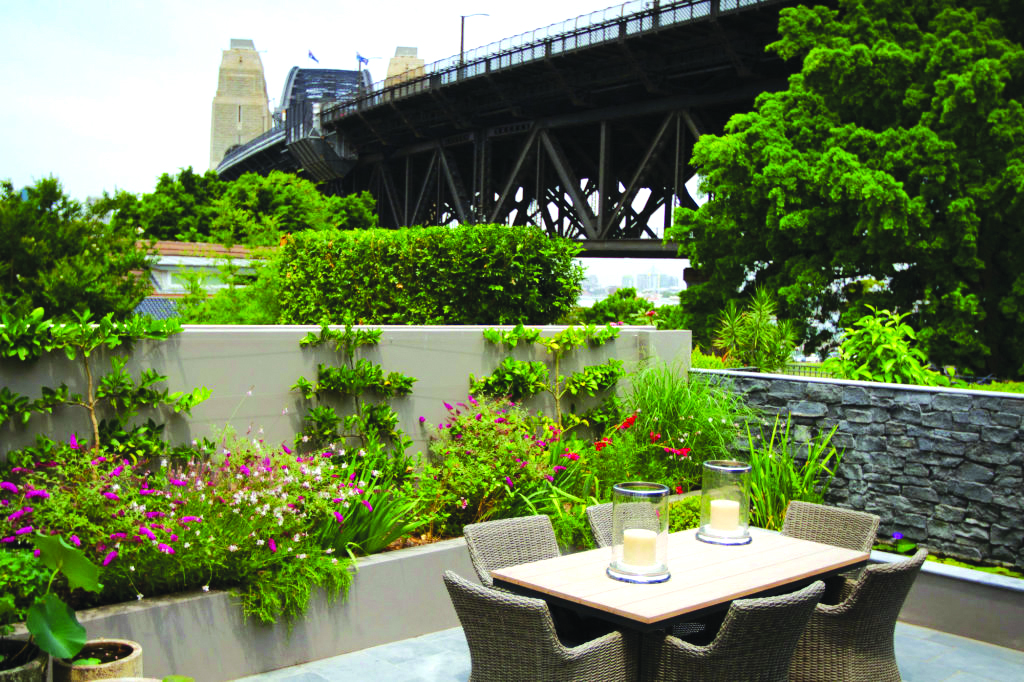 After
"It's a small space with a really healthy budget, so you needed it to look high-end and luxurious, especially with the area it was in. You have to match the price tag of the house with the price tag of the fi nishes – this was a high-end house, so it needed high-end finishes," he explains.
"In the courtyard, the water feature wall is a key area that really grabs the eye. So it was worth investing in the natural stone."
To stay within budget, Albone found other ways to save – such as opting for timber instead of steel frames for the climbing plants he put in. He also chose to simply render the rest of the brickwork. To soften the space, he used different types of plants, from fruit trees to fl owering perennials, which catered to the clients' love of flowers.
The project was completed in around six to eight weeks, and the clients received a pleasant surprise offer on their property shortly after.
"The owners hadn't planned to sell the house, but they had a knock on the door – someone had been watching the works and made them an offer they couldn't refuse!"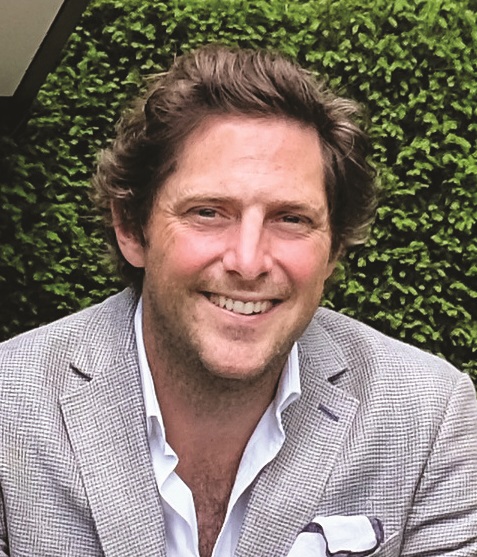 Charlie Albone
is the director of Inspired Exteriors
and the landscape design expert on Selling Houses Australia
Disclaimer: All products and prices listed are correct at the time of printing. The advice contained in this article is for general information only and should not be taken as financial advice. Please make sure to speak to a qualified professional person before making any investment decision.
Source:  Your Investment Property Mag 09th January 2020 https://www.yourinvestmentpropertymag.com.au/property-renovation/reno-focus-garden-268516.aspx?utm_source=GA&utm_medium=20200220&utm_campaign=YIPW-Newsletter-Opener&utm_content=FB30EBA4-A343-4537-A961-B966FABA4B8F&tu=FB30EBA4-A343-4537-A961-B966FABA4B8F